While talking about fridge magnets, should be a great part of art, great home decor, and also great souvenir gifts. But somethings something unexpected will happen, while your bridge magnet is broken, would you just drop your souvenir memory away, or will try to fix it?
Well, now the problem we would like to talk about is how to fix your broken fridge magnet, with no experience.
How could we fix broken fridge magnets?
Stuff will need:
clays
brush(for paint the color onto surface of fridge magnets)
paint(same color with your broken fridge magnets)
some cups
Step 1: Mix the clays
Then clean up the broken magnet, mix the clay, and wait till it is a little dry, then use your hand to put the clay fit in the broken part, just like in the photo
The clay should just fit the broken parts, and use your hand to move out the extra clay, please make the clay uniform.
Step 2: Paint the broken part
Now we wait for a little while till the clay dry, then we can start to paint it. First of all, we should paint a white color to the clay, it is because if we paint the color the same as the original magnet, the color will not the same, since the clay already has a color.
After a full of white background, we can start to paint the blue color. Should be careful that we need an all-white background for the clay.
Now we start to paint the blue color, looks nice right?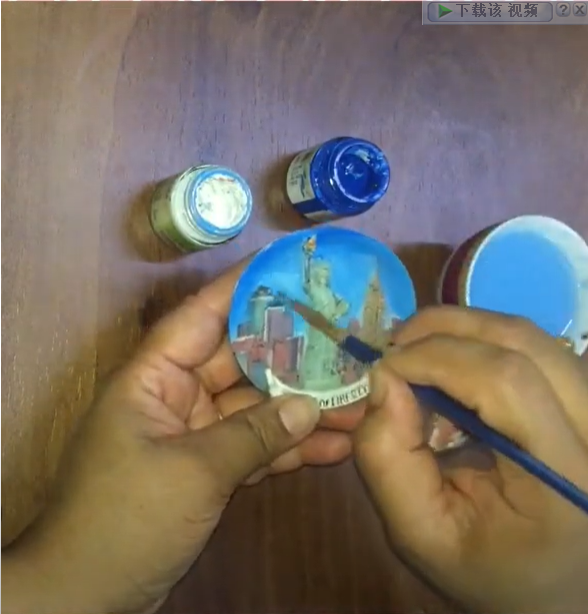 Ok then, boom we finish fixing the broken magnet yourself. It is easy right, so you can just do it yourself.
If you still have confused about how to fix the broken magnet, we also have a video show you how to fix it step by step:
Well, it is all work done, please feel free to contact us and discuss the more question about fridge magnets or resin crafts stuff, you can also visit our homepage: craftmgf.com
Things are not easy, we have lots of magnets about sea life, the city, and souvenirs if you are interested please click here